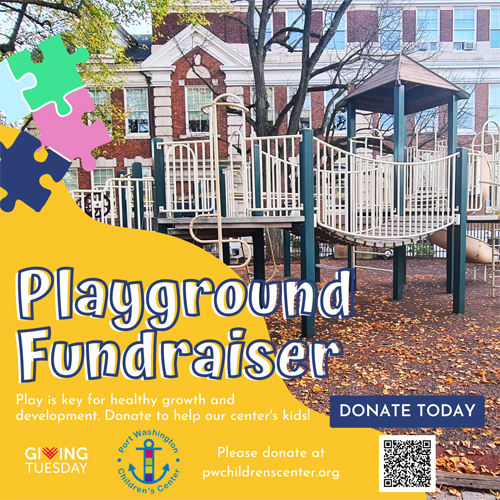 We would like to share exciting new plans for the Port Washington Children's Center! We have been working with private donors to develop plans to replace and upgrade our playground. This project is an invaluable investment in our school and our students. The new playground will provide an enriching and innovative play space that supports physical development of fine motor skills and gross motor skills. The space will add joy and value to our all of students' experience, from 18 months to 11 years old. 
We are hopeful that you will join us in this endeavor by donating to our fundraiser to renovate the playground! Donate with the button below. We are looking to have: 
water features for the toddlers
outdoor educational theater
sensory garden
a

 zig zag balance beam and balance pebble path maze

a new fence around the playground perimeter
Make a donation using our secure Online Donation Platform. Click here to make your gift today!
Make out a check payable to Port Washington Children's Center. Please mail to:
Port Washington Children's Center
Port Washington, New York 11050