Full Day, Breakfast, and AfterSchool Programs
Many of our programs are open year round. To apply for our Step-Up Class, KidsPort, Port AfterSchool, and Breakfast Programs, please click on the above button, or below for more about the ProCare Application Process. To learn about our waitlist for our Toddler, Preschool, and UPK Programs, please reach out to childcare@pwchildrenscenter.org.
Port AfterSchool Registration for September will close on Monday, August 14th. Families that register after that time will be starting in October.
KidsPort Summer has two sessions, and the entire program provides childcare from end of June to end of August. Please check back in 2024 for more on registation.
Port Day Camp has two sessions, operating in July and August. Please check back in 2024 for more on registration.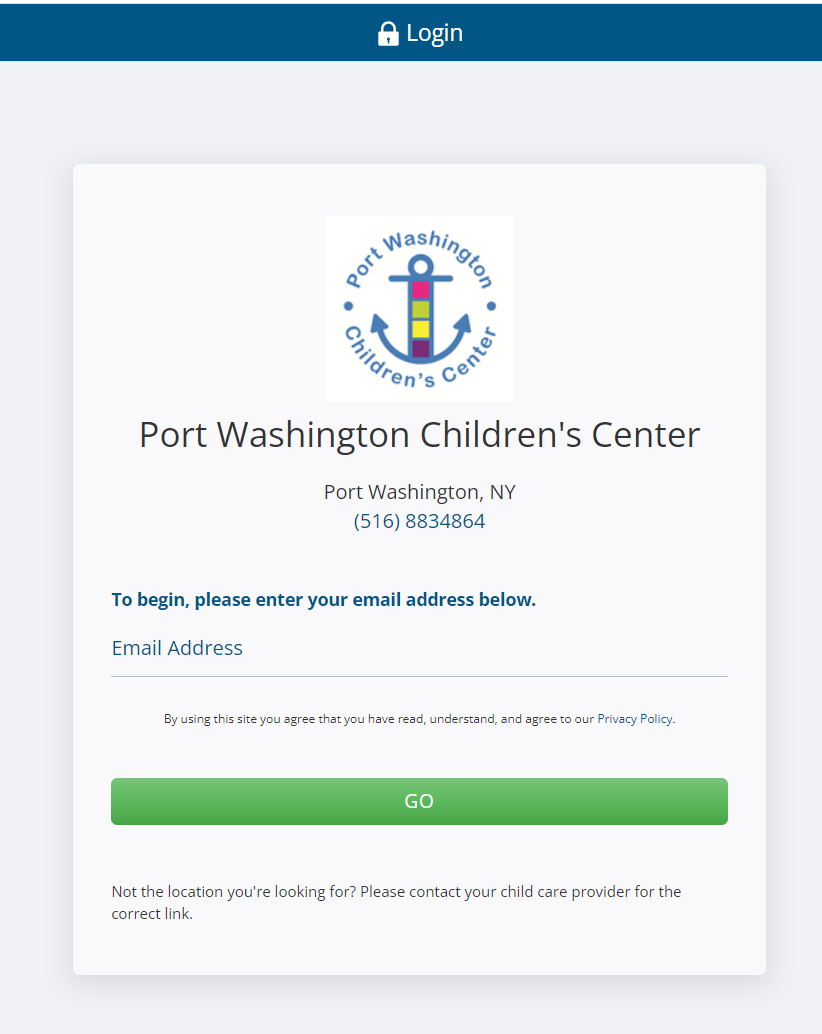 The Children's Center strives to keep our tuition rates affordable. We offer scholarship assistance as well as having a contract with Nassau County Department of Social Services (DSS). Please contact us if you need financial assistance.

Tuition Payments are due on the 20th before the first of each month. Payments made by cash or check (payable to PWCC) are accepted in the main office at the Landmark Building during normal business days between the hours of 8am to 6pm. You may also pay by credit card on our website.
Tuition is due even when your child is absent, whether for illness or vacation and when the Port Washington Children's Center is closed for a holiday, transition day or an emergency.
If tuition should become delinquent, we reserve the right to discharge a child from the program.
ProCare Account Registration
Registration will be a two-step process to ensure a smooth experience for all PWCC parents. Here's what you need to do to secure your child's spot in our programming, including our Step-Up Program, and afterschool programs Kids Port and Port AfterSchool (PAS): 
Step 1: Create your family account on ProCare. Click here to create Your Family Account and start the registration process. Through this initial step, parents will create their family account, providing essential details for a seamless enrollment process. Please only enter ONE parent/guardian information at this time. Please make sure to clear your browse cache and to use Private/Incognito mode as the system is currently experiencing some issues.
Step 2: Select the program and customize your account. Within 2 working days of creating your family account, you'll be all set to proceed to the second step! In this stage, you can register your child for the desired program, such as our Port AfterSchool program,  and choose the specific days you want them to attend, select suitable pick-up times, as well as explore various vendor options. 
Expect an Email Confirmation from ProCare. After successfully completing the family account, you will receive an email confirmation within 2 working days. After this confirmation you will be able to access your new account and proceed with the program registration process. 
Port AfterSchool offers a diverse range of engaging and educational activities, ensuring your child's after-school hours are well spent in a safe and nurturing environment. If you have any questions or encounter any issues during the registration process, feel free to contact our team at pas@pwchildrenscenter.org. Registration for PAS September will close on Monday, August 14th. Families that register after that time will be starting in October.